Why I Visit Our Students on the Field Every Year
For almost ten years my wife Charlotte and I annually head overseas to spend time with Southeastern students who are pursuing an MDiv in International Church Planting. We call it the 2+2 program for short! It is a partnership with the IMB where students spend 2 years on our campus in Wake Forest and 2 years on the field as IMB missionaries. At the end of the 4 years they receive their degree. Many go on to serve as career missionaries often taking on key leadership assignments. Numerous missiologists have told me that they believe it is the finest training program anywhere for preparing missionaries. Our students concur. I enthusiastically agree.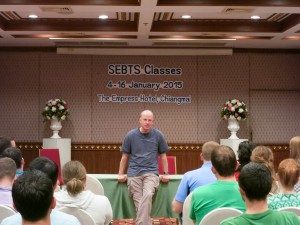 Charlotte and I have made the commitment to go and make this yearly journey for several reasons:
First, we serve a seminary that passionately believes in the Great Commission. It is the heartbeat of our school.
Second, we want to hear and see what our God is doing through these students and their families to reach the nations with the gospel. Almost all of them serve among unreached and unengaged people groups. The work is not easy in these places to be sure.
Third, we want to be an encouragement to them with a personal touch. It is one thing to write, call or Skype. It is another thing to hang out, teach, pray, worship and just listen for a week to 10 days.
Finally, we want to be encouraged. I often say I go to see our M's on the field to get my spiritual battery recharged. They have yet to fail me! When I hear and see how Jesus is being made famous among the nations through their work and witness, I am reenergized to return home to mobilize more to go! I am reenergized to put up with some of the silliness of American Christianity, because lives are being changed all around the world through the faithful and sacrificial witness of students who have sat in our classrooms and are now among the peoples of the nations telling them about Jesus.
So, this is why we go. My students are paying the price. I am the one being blessed.